Main content starts here, tab to start navigating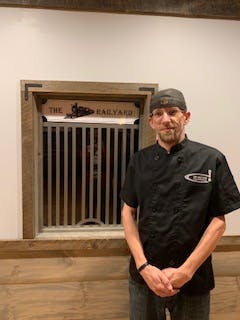 Jesse Wade
Head Chef
The RailYard is excited to announce our new head chef, Jesse Wade. Jesse is originally from Lake George, NY. He has over 20 years of experience in the restaurant, food and beverage industry.
Jesse is a self-motivated professional with outstanding skills, both as a chef and as a manager. He began his career at age 15 at the Lobster Pot Restaurant in Lake George. He subsequently worked at The Montcalm South where he was involved in all aspects of a busy kitchen and then became the head chef at Smokey Joe's BBQ. For the past 6 years, Jesse hasbeen the head chef at The Adirondack Bar and Grill.
The RailYard is honored to have hired Jesse to lead our team! We're excited to work with him and to share his culinary skills with all of you. Jesse was recently married and presently lives in Whitehall, NY with his wife, daughter, and step son.